Archive for the 'scilab-backend' tag
Um post rápido sobre o Cantor antes da última metade das festas de Carnaval.
KDE 4.13 está com as funcionalidades congeladas agora, e tive tempo de desenvolver algumas melhorias para o editor de scripts do Cantor, que estará disponível no próximo lançamento estável do KDE por volta de 16 de abril.
Agora, os backends para Python 2 e Scilab tem suporte ao editor de scripts! Veja algumas imagens: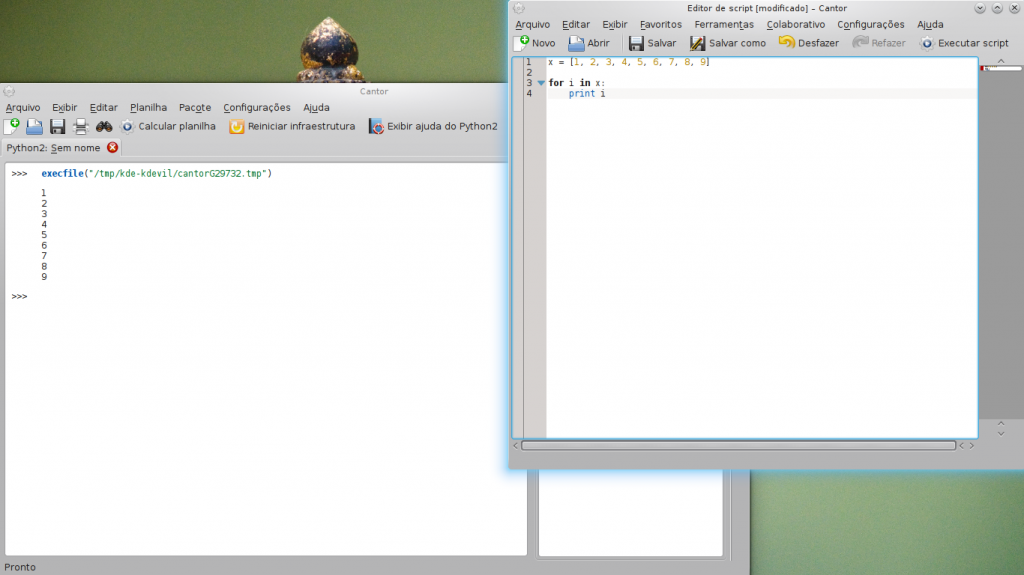 Editor de scripts do Cantor para Python 2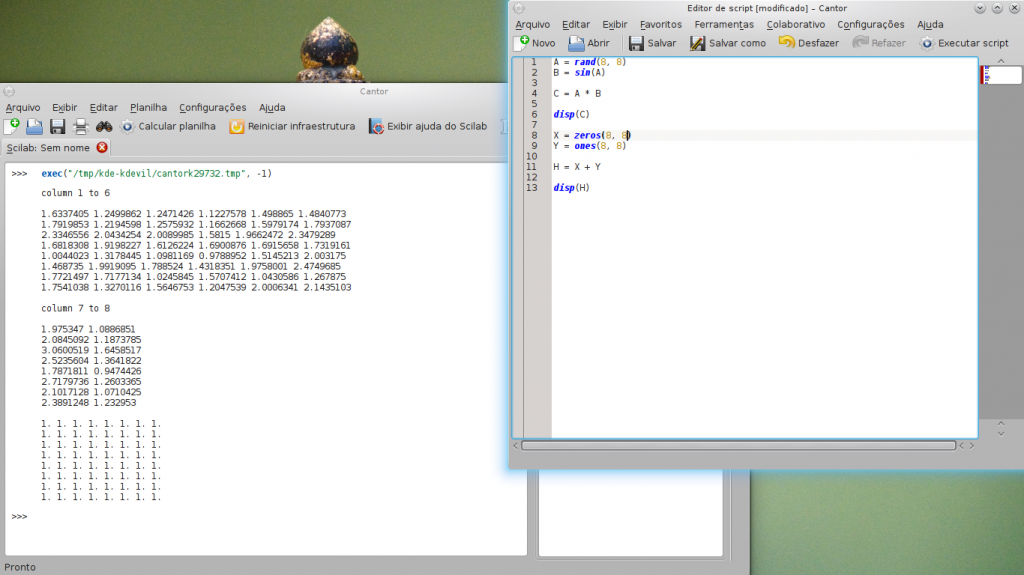 Editor de scripts do Cantor para Scilab

Você pode acessar o editor de scripts via barra de menu Exibir -> Mostrar Editor de Script. O editor é baseado em kate-part, então ele disponibiliza destaque de sintaxe, numeração de linhas, mini-mapa do texto, e todas as outras coisas legais disponíveis no Kate. Você também tem um botão Executar Script que, após pressionado, carrega o script na área de trabalho do Cantor, como pode ser visto nos exemplos.
Há outras novidades também para os demais backends do Cantor. O Editor de Scrips agora carrega o destaque de sintaxe padrão para cada backend – nas versões anteriores, isso não acontecia. E também, se você pressionar o botão Novo, o novo editor já terá o destaque de sintaxe padrão funcionando também.
Estas são as novidades do meu trabalho no Cantor para o KDE 4.13. Eu pretendo melhorar o backend para Python 2 e o editor de scripts em lançamentos futuros.
Mas agora é hora de aproveitar o restinho do carnaval nas festas de rua do Brasil. Feliz Carnaval!

A small blogpost about Cantor before Brazilian Carnival parties.
KDE 4.13 is feature freeze now and I developed some improvements in Cantor's script editor. It will be available in next KDE stable release around April 16.
Now Python 2 and Scilab backends have support to script editor! See some pictures: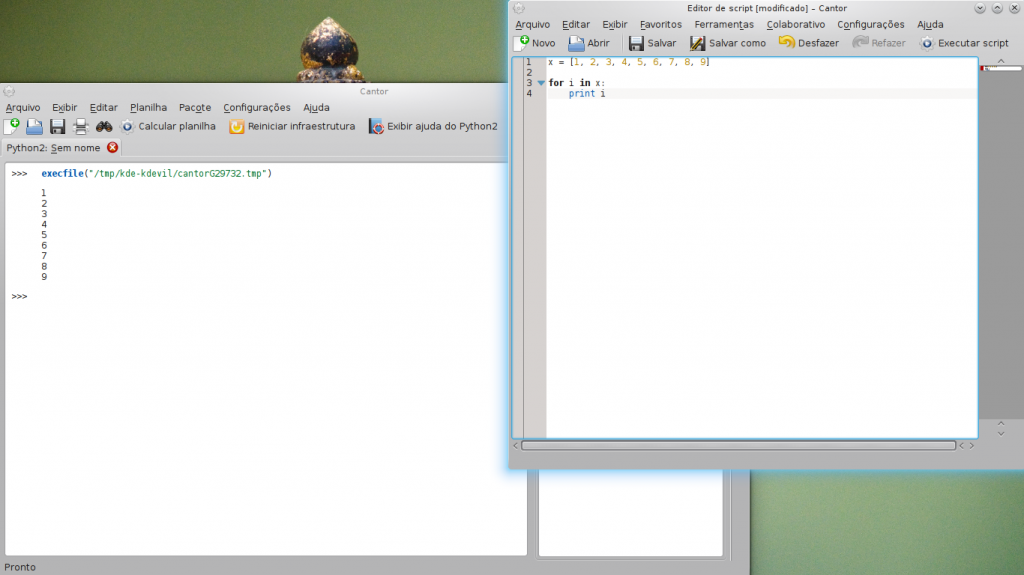 Cantor Script Editor for Python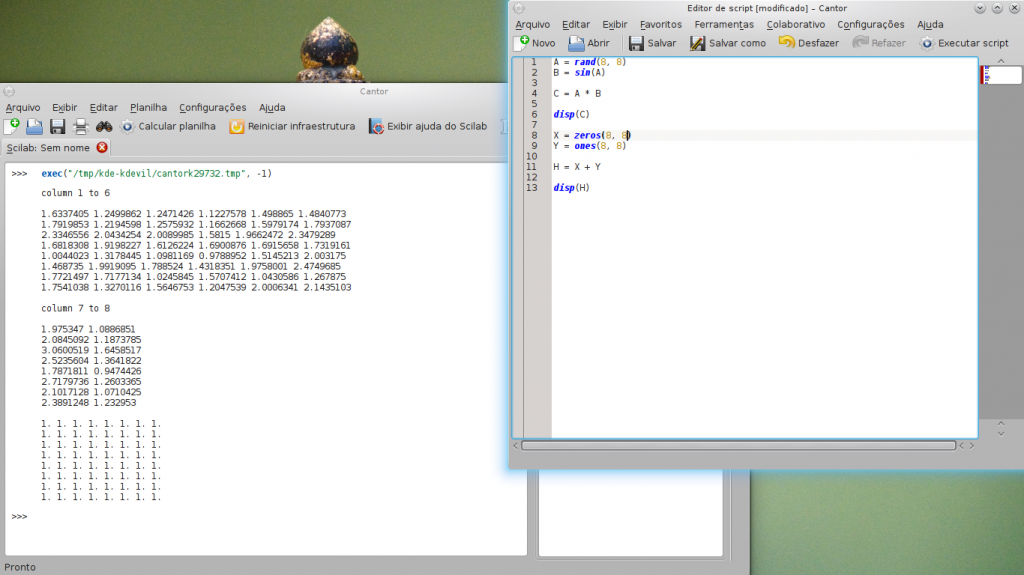 Cantor Script Editor for Scilab
You can access script editor in menu bar View -> Show Script Editor. The script editor is based in kate-part, so you have syntax highlighting, line numbering, mini-map, and all cool stuffs from Kate. You have a Run Script button too, so you can just push this button and the script will be load in Cantor worksheet, as you can see in examples.
There is news for others Cantor backends too. Now script editor load default syntax highlighting for each backend – in old versions it did not happen. And, if you push New button, the new script editor will have the default syntax highlighting working too.
It is the news about my work in Cantor for KDE 4.13. I intent improve Python 2 backend and script editor for future releases.
But now it is time to go to Brazilian street parties! Happy Carnival! ;)