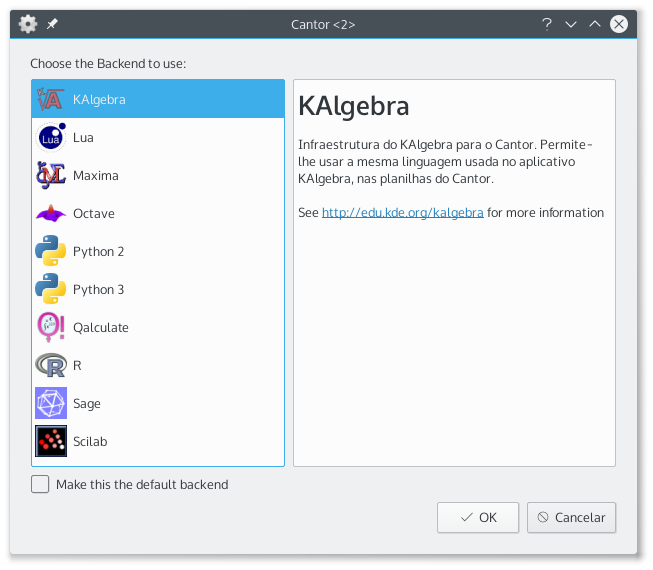 Backend selection dialog in Cantor
Cantor, the scientific programming environment inspired in notebook view concept, is going to have a new release together with KDE Applications 15.12 in December.
The most important thing in this future release is the removal of KDELibs4Support dependence. Cantor had an initial Qt5/KF5 port released with KDE Applications 15.04 in April, but that version was using KDELibs4Support yet. But that is a past story right now. Currently, the source code in master branch of Cantor repository can be compiled without the KDELibs4Support. I expect it can be a very important step to the port of the software to others operational systems.
In following weeks I am going to make a triage in bugs reports to verify which bugs are present in the current version. Let's to do a hard work and invest a lot of energy to have a great release!
If you can help in the development, feel free to work together with me this work.
If you appreciate my work with Cantor, you can support me directly making a donation. Or you can to consider make a donation to KDE community – this way you support the improvements in the desktop, applications, libraries, and in the infrastructure provided by KDE to several free software projects. There is a crowdfunding campaign running until September 30, and the donation page always available.
Happy Software Freedom Day!